Brown Rice Burrito Bowl
August 15, 2023

Enki Store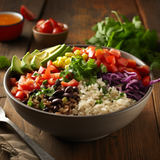 Brown Rice Burrito Bowl
Delicious Vegan Brown Rice Burrito Bowl Recipe - A Healthy Plant-Based Dinner
Welcome to enkistore, your go-to destination for mouthwatering plant-based recipes that are as easy to whip up as they are delicious. If you're on the lookout for a nourishing and flavorful dinner that aligns with your health-conscious choices, look no further! We present to you our Vegan Brown Rice Burrito Bowl - a sensational culinary creation made with just six key ingredients. Let's dive into the intricacies of this delightful dish that will undoubtedly leave your taste buds tingling.
Crafted for Culinary Harmony
The Bounty of Wholesome Components
At enkistore, we're passionate believers in the potential of whole foods to invigorate your body and tantalize your palate. Our Vegan Brown Rice Burrito Bowl seamlessly amalgamates an array of nutrient-packed components, crafting a meal that satiates and nurtures. This recipe necessitates:
Crisp Romaine Lettuce: Brimming with fiber and vital nutrients, our chosen romaine lettuce imparts volume and crispiness to your bowl.
Sweet Corn: The innate sweetness of corn complements the remaining ingredients, resulting in a symphony of tastes and textures.
Nutrient-Dense Pinto Beans: Packed with fiber, protein, and essential B vitamins, pinto beans elevate the nutritional content of this dish.
Hearty Brown Rice: Offering a generous dose of whole-grain wholesomeness, brown rice confers enduring energy and a gratifying mouthfeel.
Creamy Avocado: This velvety, nutrient-rich fruit contributes beneficial fats, vitamins, and minerals to the ensemble.
Zesty Salsa: To maintain simplicity without compromising flavor, we endorse the use of your preferred store-bought salsa as a zingy garnish.
Space for Personal Flourish
While our recipe lays the groundwork for a delectable burrito bowl, we encourage you to unleash your culinary imagination and personalize your creation. Experiment with elements such as diced red onion, shredded vegan cheese, plant-based sour cream, bell peppers, or even a sprinkle of freshly chopped cilantro. These additions not only enhance the flavor but also empower you to tailor your bowl to suit your taste buds.
Elevating Meal Preparation Mastery
We acknowledge the importance of efficiency in the hustle and bustle of contemporary life. Hence, our Vegan Brown Rice Burrito Bowl not only gratifies your palate but also excels in meal preparation convenience. By adhering to these straightforward steps, you can have a nourishing meal primed for consumption at any hour:
Cook a batch of brown rice or opt for expedited cooking with quick-cooking brown rice.
Ready your pinto beans by selecting canned organic beans or engaging in the process of cooking your own for that homely touch.
Keep corn prepared and accessible in your preferred form—fresh, frozen, or canned.
Slice your chosen lettuce variety—be it romaine, spinach, or any other verdant leaf—to infuse your bowl with added fiber and nutrition.
Constructing your burrito bowls in advance empowers you to indulge in a sumptuous and gratifying repast throughout the week, all without compromising on freshness.
Embracing Wholesome Living
At enkistore, we're unswervingly dedicated to equipping you with recipes that excite your taste buds and harmonize with your wellness aspirations. Our Vegan Brown Rice Burrito Bowl encapsulates all the elements required for a nourishing meal that bolsters your holistic well-being. With ingredients abundant in fiber, protein, vitamins, and minerals, this bowl epitomizes the potency of plant-based nourishment.
Irrespective of whether you're a veteran vegan, a curious explorer of plant-based cuisine, or an individual keen on infusing your diet with nutrient-rich choices, our Vegan Brown Rice Burrito Bowl seamlessly complements your culinary repertoire. Come join us in embracing a lifestyle that exalts flavor, health, and eco-consciousness—all within the confines of a solitary, satisfying bowl.
Wrapping Up the Culinary Expedition
To conclude, our Vegan Brown Rice Burrito Bowl stands as a testimonial to the boundless possibilities of plant-based gastronomy. With its harmonious intermingling of wholesome constituents and the freedom to customize, this recipe delivers an enchanting dining encounter that nourishes both your physique and your palate. Whether you prepare it for yourself, your loved ones, or esteemed guests, rest assured that this recipe will etch a lasting memory of delectability and well-being. So, venture into your kitchen and embark on a voyage of flavor, nutrition, and gastronomic artistry with enkistore's Vegan Brown Rice Burrito Bowl.

Our Brown Rice Burrito Bowl Recipe:
INGREDIENTS:

1 avocado (or 1/4–1/2 an avocado per bowl)
2 cups cooked brown rice (or about 1/2 cup per bowl)
1 19 oz can pinto beans, drained and rinsed (or about 1/2 cup per bowl)
2 cups corn (or 1/2 cup per bowl)
1 bunch romaine lettuce (or about 2 cups shredded per bowl)
1 cup salsa (or about 1/4 cup per bowl)
INSTRUCTIONS:

1. Prepare 4 bowls or containers.
2. Divide the ingredients between 4 servings.
3. Enjoy right away as is or top with fresh cilantro and a squeeze of lime.
NOTES:
Total recipe time does not include cooking brown rice. I used quick cooking brown rice which takes 10 minutes, otherwise you'll need 45 minutes to cook brown rice.