Shishito Peppers Recipe
January 08, 2023

Enki Store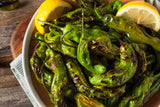 Shishito Peppers 
Recipe:
4 ingredients · 10 minutes · 8 servings
Ingredients:
1 lb Shishito Peppers
1 1/2 tbsps Avocado Oil
1/4 tsp Sea Salt
1/2 Lime (juiced)
Instructions:
1. Heat a large cast-iron skillet over medium-high heat. In a large bowl, toss the shishito peppers with oil and sea salt.
2. Once the skillet is very hot, add the shishito peppers. Cook until charred on all sides, flipping as needed with tongs, about 5 to 6 minutes.
3. Remove the peppers and add to a plate and toss with lime juice and additional salt as needed. Enjoy!
Notes:
Leftovers
Refrigerate in an airtight container for up to two days. Reheat as needed on a cast-iron skillet.
Serving Size
One serving is equal to about 3/4 cup of cooked peppers.
More Flavor
Sprinkle with nutritional yeast and/or sesame seeds when serving.
Do you want more recipes like this?
Get our 85 vegan recipes eBook. Use code VEGAN at checkout and get 10% OFF.