Pickled Carrots & Daikon Recipe
October 25, 2022

Enki Store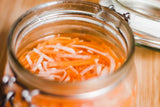 Pickled Carrots & Daikon
Recipe:

6 ingredients · 10 minutes · 12 servings

Ingredients:
1 cup Water
1/2 cup Apple Cider Vinegar
1/4 cup Coconut Sugar
1/4 tsp Sea Salt
1 1/2 cups Daikon (julienned)
1 Carrot (medium, julienned)
Instructions:
1. In a sauce pan over medium heat, whisk together the water, vinegar, coconut sugar and
salt until completely dissolved. Remove from heat.
2. Transfer the brine into jars and add the daikon and carrot. Cover and let cool. Refrigerate
for 3 days before serving for best flavour

Notes:
Storage
Refrigerate in an airtight jar up to 3 to 4 weeks.

Serve it With
Any savoury dish, sandwich or wrap, such as our BBQ Pork, One Pan Pesto Olive Pork Chops, Mango Veggie Spring Rolls or Asian Turkey Lettuce Wraps recipe.
Do you want more recipes like this?
Get our 85 vegan recipes eBook. Use code VEGAN at checkout and get 10% OFF.