Potato Patties Recipe
March 05, 2023

Enki Store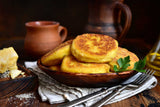 Potato Patties

7 ingredients · 40 minutes · 4 servings

Ingredients:
2 cups Water
2 Russet Potato (peeled, chopped)
1/4 cup Unsweetened Almond Milk
2 tbsps Avocado Oil (divided)
1/4 tsp Sea Salt
1/4 tsp Black Pepper
1 tbsp Parsley (chopped)
Instructions:
1. Bring the water to a boil in a small saucepan. Add the potatoes and cook for 10 to 12
minutes or until soft. Once the potatoes are cooked, drain the water and add the almond
milk, half of the avocado oil, sea salt and pepper. Mash together with a potato masher
until smooth.
2. In a skillet over medium heat, add the rest of the avocado oil. Scoop roughly 1/2 cup of
mashed potatoes and press down with a spatula until it forms a pancake shape. Cook on
each side for 8 to 10 minutes or until golden brown. Repeat until all of the mash is
cooked up.
3. Remove from the skillet and top with parsley. Enjoy!
Notes:

Leftovers
Refrigerate in an airtight container for up to three days. Freeze for up to one month. For best
results, reheat on the stove in a skillet.
Serving Size
One serving is equal to two potato patties.
More Flavor
Add additional spices such as onion powder or chilli powder.
Do you want more recipes like this?
Get our 85 vegan recipes eBook. Use code VEGAN at checkout and get 10% OFF.