Almond, Chia & Banana Toast
March 19, 2023

Enki Store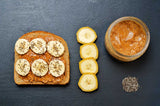 Almond, Chia & Banana Toast

Recipe:
5 ingredients · 5 minutes · 1 serving

Ingredients:

2 tbsps Almond Butter
2 slices Gluten-Free Bread (toasted)
1 tbsp Chia Seeds
1/4 tsp Cinnamon
1 Banana (sliced)
Instructions:

1. Spread the almond butter on top of the toast and top with the chia seeds, cinnamon and
banana slices. Enjoy!
Notes:

Nut-Free
Use sunflower seed butter instead.
No Chia Seeds
Use hemp seeds instead.
No Almond Butter
Use another nut butter instead
Do you want more recipes like this?
Get our 85 vegan recipes eBook. Use code VEGAN at checkout and get 10% OFF.