Simple Creamy Banana Oatmeal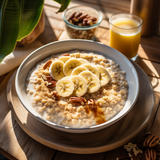 Creamy Vegan Banana Oatmeal Recipe - A Wholesome Breakfast by enkistore
Are you on the lookout for a warm and comforting breakfast option that not only tantalizes your taste buds but also kickstarts your day with a healthy and nourishing boost? Your search ends here! At enkistore, we take pride in presenting you with our ultimate recipe for simple creamy banana oatmeal, a delightful bowl of goodness that will leave you craving for more with every spoonful. What's more, this breakfast treat is not just easy to make, but it's also entirely vegan, gluten-free, and suitable for a wide range of dietary preferences, making it the perfect choice for everyone.
Why You'll Love Our Creamy Vegan Banana Oatmeal
At enkistore, we understand the importance of beginning your day with a delicious and nutritious breakfast. Our creamy vegan banana oatmeal checks all the boxes and here's why it's bound to become your new favorite breakfast option:
Creamy and Naturally Sweetened: Our secret to achieving a luscious, velvety texture in this oatmeal is the addition of mashed banana to the mix. The result is akin to a warm hug in a bowl, and the natural sweetness of ripe bananas eliminates the need for any extra sugar or sweeteners.
Quick and Easy: We know mornings can be a rush, which is why we've designed this recipe to be ready in just 10 minutes. It's the perfect solution for those busy mornings when you crave a comforting breakfast without the hassle.
Wholesome Ingredients: With just 5 healthy and wholesome ingredients – rolled oats, chia seeds, cinnamon, non-dairy milk, and the star of the show, ripe bananas – you can trust that every spoonful nourishes your body.
Versatile and Customizable: Our creamy vegan banana oatmeal is incredibly versatile. You can personalize it with your favorite toppings, such as cacao nibs, peanut butter, hemp seeds, or blueberries, tailoring it to your taste and preferences.
Great for Using Ripe Bananas: If you often find yourself with overripe bananas on your countertop, fret not! This oatmeal recipe provides an excellent way to make the most of those ripe bananas.
The Perfect Creamy Oatmeal Cooking Technique
At enkistore, we've honed the cooking technique to ensure your oatmeal turns out fluffy, creamy, and utterly delightful. Here's how we do it:
The Best Oats for Creaminess: For that perfect creamy consistency we all adore, we recommend using rolled oats (old-fashioned oats) or large flake oats. While quick oats can work, rolled oats truly elevate the texture.
Mash the Banana as it Cooks: As the oatmeal simmers, gently mash the banana using a wooden spoon. This step enhances the creaminess and infuses the oats with the sweet flavor of the banana.
Thicken to Perfection: Cook the oatmeal over medium-low heat, stirring frequently to avoid burning. You'll know it's ready when it thickens to a rich and creamy consistency. Feel free to adjust the thickness by adding more plant-based milk to suit your preference.
Boost the Nutrition with Add-Ins
At enkistore, we firmly believe in maximizing the nutritional value of our recipes. Here are some add-ins you can incorporate to take our creamy vegan banana oatmeal to the next level:
Protein Power: For an extra protein boost, add up to 1 full scoop of vanilla vegan protein powder to the oatmeal. It'll make your breakfast even more satisfying and keep you energized throughout the morning.
Healthy Spices: Experiment with spices like nutmeg, ginger, allspice, or a pinch of apple pie spice for a delightful flavor twist.
Our Creamy Vegan Banana Oatmeal Recipe
Enough talking, let's get cooking! Here's the full recipe for our creamy vegan banana oatmeal:
Ingredients:
1 ripe, spotty banana (110 g)
1/2 cup rolled oats (50 g, use GF-certified if needed)
1 tbsp chia seeds (12 g) or ground flax (7 g)
1/2 tsp cinnamon
Pinch of sea salt
1/2 cup water
1/2 cup almond milk (or other plant milk of choice)
Instructions:
Add all of the ingredients to a small pot on the stovetop.
Cook over medium heat, stirring and mashing the banana with a wooden spoon as it cooks.
Cook for 8-10 minutes until thick and creamy, stirring frequently so it doesn't burn. We suggest removing the pot from the heat after 8-10 minutes and letting it sit for a few more minutes to thicken a little more.
If you prefer a creamier consistency, stir in a little additional almond milk, light coconut milk, or other plant milk of choice until you reach your desired texture.
Scoop the creamy banana oatmeal into a bowl, and for the perfect finishing touch, add your favorite toppings. Chopped walnuts, blueberries, or a drizzle of almond butter are all delicious choices.
Final Thoughts
At enkistore, we firmly believe that a nourishing breakfast should be both delectable and easy to make. Our creamy vegan banana oatmeal recipe ticks all the boxes, offering a delightful choice for your morning routine. Vegan, gluten-free, and naturally sweetened, it provides you with a wholesome and satisfying breakfast that will fuel your day ahead. Don't hesitate to experiment with different toppings and add-ins to create your perfect bowl of creamy vegan banana oatmeal. Savor the warm and comforting goodness of this recipe any day of the week!