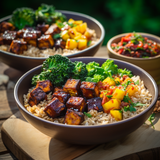 Delicious Vegan BBQ Tofu Bowls - Flavorful Plant-Based Recipe
Welcome to Enkistore, where we bring you delicious and nutritious plant-based recipes that cater to all taste buds. Today, we're excited to present our mouthwatering Vegan BBQ Tofu Bowls recipe, a delightful combination of flavors and textures that will leave you craving for more. Packed with wholesome ingredients, this easy-to-make dish is perfect for both seasoned vegans and those new to plant-based cuisine.
The Perfect Vegan BBQ Tofu Bowl – Simple and Customizable
Our Vegan BBQ Tofu Bowls boast a straightforward 6-ingredient recipe that will elevate your mealtime experience to new heights. What makes this dish even better is its versatility, as you can easily customize it with optional add-ins according to your taste preferences. The result? A fulfilling and flavorful meal that caters to various dietary needs, including vegan, oil-free, nut-free, and even gluten-free.
Key Ingredients and Substitutions
Tofu:
For the best results, we recommend using firm or extra-firm tofu. However, if you prefer alternatives, you can also substitute it with marinated tempeh or BBQ chickpeas.
BBQ Sauce:
You have the freedom to choose any kind of BBQ sauce that suits your taste. Store-bought options work well, but if you prefer homemade, we've got you covered with a delicious homemade BBQ sauce recipe from Enkistore.
Rice:
Feel free to use your favorite rice variety, such as brown rice or basmati. For a twist, swap it for farro or quinoa, or opt for a low-carb alternative like cauliflower rice.
Red Onion:
We highly recommend sticking to red onions for this recipe, as their natural sweetness complements the dish beautifully when roasted.
Pineapple:
Both canned and fresh pineapple work splendidly to add a burst of sweetness to the bowls.
Broccoli:
Steamed broccoli is a key component of this dish, providing a satisfying crunch and a dose of nutrition.
Step-by-Step Instructions for a Flavorful Dish
Before starting, you may consider pressing the tofu for even better results. Simply fold the tofu block in a dish towel, place a heavy object on top, and let it sit for about 30 minutes to drain excess water.
Begin by cooking your choice of rice. We love basmati or jasmine rice, but you can use brown rice, wild rice, or any grain you prefer.
Cut the tofu into cubes or triangles and toss it with half of the BBQ sauce in a bowl or bag. Line a baking sheet with parchment paper, add the tofu, and bake it for 20 minutes at 425°F.
As the tofu bakes, slice the red onion and, after 20 minutes, pull the tofu from the oven and add the remaining BBQ sauce, coating the tofu evenly. Place the red onion on the same pan and return it to the oven for another 20 minutes.
While the tofu and onion roast, steam the broccoli until cooked al dente.
Once everything is ready, assemble your Vegan BBQ Tofu Bowls. Add the cooked rice, BBQ tofu, roasted red onion, and steamed broccoli to each bowl. For an extra kick, drizzle some additional BBQ sauce over the top.
Enhance Your Tofu Bowls with Extra Ingredients
While our Vegan BBQ Tofu Bowls are already a delightful treat, you can further elevate them with these optional add-ins:
Diced cucumber
Diced bell peppers or roasted red peppers
Roasted sweet potato or oil-free baked fries
Black beans, kidney beans, or chickpeas
Cilantro
Romaine
Edamame
Corn
Avocado
Spinach
Tofu ranch or tahini ranch dressing
Our Vegan bbq tofu bowls Recipe
INGREDIENTS:

1 350 g block of extra-firm tofu, cut into cubes or triangles
2/3 cup BBQ sauce
2 cups pineapple tidbits or chunks (or approx. 1/2 cup per bowl)
4 cups chopped broccoli (or approx. 1 cup per bowl)
2 red onions, sliced into large chunks (or approx. 1/2 an onion per bowl)
2 cups cooked rice (or approx. 1/2 cup per bowl)

INSTRUCTIONS:

1. Optional: Press the tofu before use. To press it, either use a tofu press or fold the block up in a dish cloth, put it on a plate and place a heavy object on it for 20-30 minutes.
2. If you don't have rice prepared, start cooking that now according to package instructions. You can use brown rice, basmati rice or any other rice or grain you enjoy.
3. If you have the time, cube the tofu or cut it into triangles, mix with half of the BBQ sauce in a bowl or bag and marinate for 1-2 hours. This step is optional but will help the tofu absorb more flavour. If you didn't plan ahead for this step, no problem, the tofu will still be good without the extra marinating time! Mix the tofu with the bbq sauce in a bowl and proceed.
4. Preheat the oven to 425 F.
5. For easy clean up, line a baking tray with parchment paper. Spread the tofu in a single layer on the tray and bake for 20 minutes.
6. While the tofu is baking, peel and slice the red onion into chunks, chop the broccoli into small florets and prepare the pineapple for later.
7. After 20 minutes, pull the tofu from the oven and push the pieces to the side of the tray. Add the rest of the bbq sauce to the tofu on the pan and mix to combine. Spread the chopped red onion on the other half of the pan and sprinkle with a pinch of salt and pepper, if desired. Place the tray back in the oven for another 20 minutes.
8. While the onion and tofu are roasting, steam the broccoli. Bring a pot of water with a steamer basket to a boil and add the broccoli. Cover and steam for 3-5 minutes or until cooked al dente. Prepare the pineapple as well. If you're using canned pineapple, drain and chop if needed. If you're using fresh pineapple, chop into bite-sized pieces.
9. Once everything is ready, divide the ingredients between 4 serving bowls or food storage containers, top with a little extra BBQ sauce and enjoy.

Storage and Serving
Once you've assembled your bowls, they can be stored in the fridge for up to four days. Enjoy them either cold or warmed up in the microwave, depending on your preference.
Nutrition and Health Benefits
Each Vegan BBQ Tofu Bowl is a nutrition powerhouse, offering a balanced blend of macronutrients and essential vitamins. With approximately 50g of carbohydrates, 7g of fiber, 15g of sugar, 175mg of sodium, 9g of fat, and 21g of protein per serving, this dish will fuel your body and keep you satisfied.
Conclusion
With its delightful flavors and simplicity, our Vegan BBQ Tofu Bowls recipe is an excellent addition to your plant-based meal repertoire. Its versatility allows you to personalize the dish to suit your preferences, making it perfect for everyone at the table. Enjoy the savory goodness of this nutritious and delicious meal, brought to you by Enkistore!
Disclaimer: This article is for informational purposes only. It does not constitute medical advice and should not replace professional consultation, diagnosis, or treatment. Always seek the advice of a qualified healthcare provider with any questions you may have regarding a medical condition.