The Perfect Vegan Coconut Red Lentil Dahl Recipe
August 13, 2023

Enki Store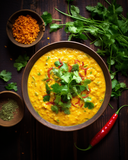 Vegan Coconut Red Lentil Dahl Recipe
Are you on the hunt for an extraordinary culinary creation that not only tantalizes your taste buds but also nourishes your body? Your search ends here, as enkistore proudly presents a culinary masterpiece – the Vegan Coconut Red Lentil Dahl. Crafted with passion and precision, this delectable dish is a harmonious blend of flavors, textures, and nourishing ingredients, designed to elevate your dining experience.
Embrace the Essence of Vegan Delight
Dive into a world of flavor and delight with our Vegan Coconut Red Lentil Dahl. This exceptional dish is a union of the richness of coconut milk and the wholesomeness of red lentils, resulting in a symphony of flavors that dance on your palate. Each spoonful carries the essence of a culinary journey that's both comforting and exotic.
The Art of Culinary Composition
At enkistore, we view culinary creation as an art form. Our recipe for Vegan Coconut Red Lentil Dahl is a masterpiece meticulously composed to captivate your senses. The aromatic blend of curry powder, turmeric, coriander, salt, and pepper harmonizes with the gentle heat of red pepper flakes, creating a balanced flavor profile that's both captivating and satisfying.
Simplicity Meets Sophistication
Crafted with precision, the Vegan Coconut Red Lentil Dahl strikes a perfect balance between simplicity and sophistication. With just a tablespoon of coconut oil, diced onions, minced garlic, and fresh ginger, you set the stage for a culinary journey that unfolds with every step.
A Transformation in Every Bite
Prepare to be enchanted as you follow the step-by-step instructions of our recipe. The medley of sautéed onions, garlic, and ginger infused with coconut oil lays the foundation for an aromatic masterpiece. As you add the spices, coconut milk, lentils, and the liquid base, a transformation occurs, turning simple ingredients into a symphony of taste.
A Journey of Flavor and Texture
The Vegan Coconut Red Lentil Dahl promises an extraordinary journey of flavors and textures. The lentils, cooked to tender perfection, absorb the essence of spices and coconut milk, resulting in a velvety, creamy consistency that delights with every spoonful. Each bite is a fusion of nuttiness, warmth, and a hint of exoticism.
Versatility and Nourishment
At enkistore, we celebrate culinary versatility and nourishment. Our recipe not only caters to your taste buds but also accommodates dietary preferences. The dish proudly embraces vegan, soy-free, gluten-free, and nut-free attributes, all while offering a chance to explore variations and creativity in the kitchen.
A Symphony of Presentation
The Vegan Coconut Red Lentil Dahl not only dazzles in flavor but also in presentation. Serve it as a standalone dish, or enhance the experience with accompaniments such as fresh pita or naan bread. Elevate it with aromatic jasmine, basmati, or hearty brown rice. Embrace the abundance of nature by pairing it with fresh greens or other cooked vegetables.
A Gastronomic Adventure
Indulge in the pleasure of enkistore's Vegan Coconut Red Lentil Dahl – a dish that isn't just about taste, but about the experience. From its humble beginnings to its journey onto your plate, this dish is a testament to the fusion of tradition and innovation, simplicity and sophistication, and nourishment and indulgence.
Our Vegan Coconut Red Lentil Dahl Recipe

Enough talking, let's get cooking! Here's the full recipe for our Vegan Coconut Red Lentil Dahl Recipe:
INGREDIENTS
1 tbsp coconut oil
2 medium yellow onions, diced (600 g, approx. 4 cups)
4 medium cloves garlic, minced
1 tbsp fresh ginger, peeled, minced
1 tbsp curry powder
1 tsp turmeric
1/2 tsp coriander
1/2 tsp black pepper
1 tsp sea salt
1/2 tsp red pepper flakes
2 cups (375 g) dry red lentils
1 can coconut milk (full-fat or light)
3 cups water or vegetable stock
fresh cilantro for serving
cooked jasmine, basmati or brown rice, for serving (optional)

INSTRUCTIONS:

Cook the onions, ginger and garlic in the coconut oil for 5-10 minutes over medium heat, stirring frequently until soft.
Add the spices, coconut milk, lentils and water or vegetable stock.
Bring to a light simmer over low to medium heat and cook for 25-30 minutes, uncovered, until lentils are soft and it has thickened up.
Remove from heat and serve topped with fresh cilantro over brown rice, quinoa, or on its own.

NOTES
Broth or Water: You can use both with good results but the broth adds a bit more flavour to the final dish.

Coconut Milk: Both light and full-fat coconut milk work well. Full-fat will result in an extra creamy dahl, light coconut milk is great for a lower-fat option that's still delicious.

Storage: Let cool then store in a sealable container in the fridge for up to 5 days or freezer for up to 3 months. Reheat as needed stovetop or in the microwave.

Spiciness: Omit or reduce the amount of red pepper flakes if you're sensitive to spice.
Conclusion
enkistore invites you to experience the enchantment of its Vegan Coconut Red Lentil Dahl. Embrace the culinary journey as it takes you through the aromas, flavors, and textures that define this extraordinary dish. With a focus on taste, health, and creativity, enkistore aims to redefine your culinary adventure through a symphony of vegan delight that's rich, flavorful, and memorable.