Pumpkin and fennel soup Recipe
November 20, 2020

Vegan Recipes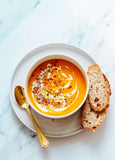 Looking for a delicious and healthy vegan soup recipe? Look no further than this pumpkin and fennel soup recipe! Made with wholesome ingredients and bursting with flavor, this soup is sure to become a staple in your kitchen. And the best part? You can find all of the ingredients you need to make it.


A Delicious and Healthy Soup Recipe Made with Wholesome Ingredients from enkistore.com
When it comes to vegan recipes, it can be challenging to find meals that are both healthy and satisfying. That's why this pumpkin and fennel soup recipe is a game-changer. It's packed with nutrients and flavor, making it the perfect meal for a chilly night.

Recipe:
For 2

Ingredients:
300 gr. pumpkin
1 onion
1 potato
1 fennel
1 clove of garlic
Salt and Pepper To Taste
1 slice of ginger
2-3 tablespoons of extra virgin olive oil
about 700 ml of vegetable broth
1 teaspoon of all spices
Thyme leaves
To garnish
2 teaspoons of mixed seeds
Thyme leaves
2 tablespoons of vegan yogurt
Extra virgin olive oil to taste

Instructions:
Clean the vegetables and place them in a pan with parchment paper underneath. Salt,
pepper, sprinkle with oil, spices and thyme leaves. Bake at 357F until ready.
Separately, in the pan heat a little oil, brown the grated ginger and add the broth. Simmer
and add the cooked vegetables. Blend everything and leave on the heat for a few more
minutes until it thickens and makes a velvety cream.
Once ready, serve with mixed seeds, thyme leaves, vegan yoghurt, and evoo oil.


This soup is not only delicious, but it's also incredibly healthy. Pumpkin is a great source of vitamin A and fiber, while fennel is packed with vitamin C and potassium. And because it's vegan, it's a great option for anyone who's looking to eat more plant-based meals.
If you're looking for high-quality ingredients to use in this recipe, look no further than enkistore.com. They offer a wide selection of organic, non-GMO, and sustainably sourced ingredients, so you can feel good about what you're putting into your body.
In addition to being healthy and delicious, this soup is also incredibly easy to make. With just a few simple ingredients and a bit of time, you can have a satisfying meal that's perfect for any occasion. Plus, it's a great way to use up any leftover pumpkin you may have from other recipes.
If you want to make this soup even more filling, you can add some croutons or serve it with a slice of crusty bread. You can also experiment with different spices and herbs to customize the flavor to your liking. For example, adding some fresh thyme or rosemary would give this soup a lovely earthy flavor.
In conclusion, this pumpkin and fennel soup recipe is a must-try for anyone who's looking for a healthy, delicious, and easy-to-make vegan meal. And with enkistore.com, you can find all of the ingredients you need to make it right at your fingertips. So why not give it a try today? Your taste buds (and your body) will thank you!