Crostone with hummus and bell peppers Recipe
November 20, 2020

Vegan Recipes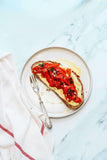 Crostone with hummus and bell peppers

Recipe:
For 2
Ingredients:
2 slices of wholemeal bread
3-4 tablespoons of hummus
Mixed seeds
2 bell peppers
2 tablespoons of olive oil
Salt and Pepper To Taste
1 clove of garlic
Parsley to taste

Instructions:
Wash and cut the peppers into strips. Heat the oil with garlic cloves, add the peppers too.
Season with salt and pepper and cook until they are ready. Mixing them occasionally
Toast the bread, spread it with hummus, put the sautéed peppers on top, sprinkle with mixed
seeds and chopped parsley.