Pumpkin Carrot Soup Vegan Recipe
February 08, 2022

Enki Store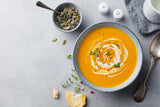 Spiced carrot and pumpkin soup - this delicious, warming vegan soup is easy to make and the perfect meal for Winter. It is hearty and comforting and sure to become a family favorite you will want to make on repeat throughout the colder months.

Recipe:

Ingredients
2 Tbsp olive oil
1 large brown onion peeled and chopped
1 kg (35 oz) pumpkin or butternut squash (about 1.2 kg unprepared weight) peeled, deseeded and diced
600 g (21 oz) carrots (about 6 medium) peeled and diced
3 cloves garlic peeled and crushed
1 inch piece fresh ginger peeled and grated
½ tsp ground coriander
½ tsp cumin
½ tsp paprika
¼ tsp turmeric
¼ tsp ground nutmeg
¼ tsp chilli powder
a pinch ground cardamom
3 sprigs fresh thyme
1 litre (4 cups) vegetable stock
salt and pepper
non-dairy milk as needed (optional)

Instructions:

1. Heat the olive oil in a large pan and gently fry the chopped onion for 5-10 minutes until it is soft and translucent.
2. Add the diced pumpkin/butternut squash and carrots and the crushed garlic and grated ginger. Cook for a couple more minutes, stirring often.
3. Add the coriander, cumin, paprika, turmeric, nutmeg, chilli powder, cardamom and thyme and cook for another minute while stirring.
4. Add the vegetable stock and some salt and pepper. Bring up to a simmer and cook for 20-30 minutes, stirring every now and again, until the vegetables are soft.
5. Remove the thyme sprigs and blend the soup until it is totally smooth. I use a stick blender.
6. Add a little non-dairy milk or water as needed until the soup is the desired consistency. Taste and add more salt and pepper as needed.
Store any leftovers in the fridge for up to 4 days.


Notes:

You can use either a variety of eating pumpkin or squash (such as butternut squash) to make this soup. If you use pumpkin then make sure that it is an eating one, not one for carving as they are watery and lacking in flavour.
If you want a creamier, richer soup then you can add a splash of (non-dairy) cream or milk when you blend the soup.
This spiced carrot and pumpkin soup will keep in the fridge for a few days so it's great for quick lunches!
Do you want more recipes like this?
Get our 85 vegan recipes eBook. Use code VEGAN at checkout and get 10% OFF.