Avocado Chickpea Hummus Recipe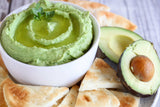 Avocado Chickpea Hummus
Recipe:

9 ingredients · 5 minutes · 8 servings
Ingredients:
1 Avocado (medium, peeled and pit removed)
1 cup Chickpeas (cooked, from the can)
1 Garlic (clove)
1 tsp Dijon Mustard
1/4 tsp Sea Salt
3 tbsps Lemon Juice
2 tbsps Water
1/4 cup Extra Virgin Olive Oil
12 1/3 ozs Seed Crackers

Instructions:
1. Add the avocado to your food processor along with the chickpeas, garlic, Dijon mustard.
sea salt, lemon juice and water.
2. Turn food processor on and blend until avocado and chickpeas mostly smooth. Scrape
down the side of the bowl as needed.
3. When the hummus is mostly smooth, slowly stream in olive oil. Let the food processor
blend for about a minute until very creamy. Season with additional salt or lemon juice if
needed.
4. Store in the fridge until ready to eat. Serve with crackers and enjoy!

Notes:

Leftovers
Keeps well in an airtight container in the fridge for up to two days.
Too Thick
If the consistency of the hummus is too thick, thin with 1 tablespoon of water at a time until
desired consistency is reached.
No Crackers
Serve with veggie sticks or chips instead.
Serving Size
One serving is equal to approximately 3 tbsp of hummus.
Do you want more recipes like this?
Get our 85 vegan recipes eBook. Use code VEGAN at checkout and get 10% OFF.