Butternut Squash Hummus Recipe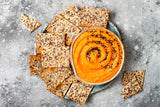 Butternut Squash Hummus
6 ingredients · 20 minutes · 6 servings
Recipe:
Ingredients:

2 cups Butternut Squash (peeled and diced into
1-inch cubes)
2 tbsps Tahini
2 tbsps Lemon Juice
1/2 tsp Sea Salt
1/4 cup Extra Virgin Olive Oil
7 1/16 ozs Seed Crackers
Instructions:

1. Steam the butternut squash in a steaming basket for 6 to 8 minutes, or until it is tender
when pierced with a fork.
2. Add steamed squash to a blender or food processor along with the tahini, lemon juice
and sea salt. Drizzle in the extra virgin olive oil and process until smooth and creamy.
3. Transfer the hummus to a bowl and refrigerate until ready to eat. Serve with crackers.
Enjoy!