Homemade Ketchup Vegan Recipe
September 25, 2022

Enki Store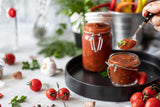 Homemade Ketchup
Recipe:
7 ingredients · 30 minutes · 24 servings
Ingredients:
3 1/2 cups Crushed Tomatoes
1/4 cup Water
3 tbsps Maple Syrup
1 1/2 tbsps Apple Cider Vinegar
1/2 tsp Onion Powder
1/2 tsp Garlic Powder
1/2 tsp Sea Salt
Instructions:
1. Combine all ingredients in a large saucepan over medium heat. Lower the heat and
simmer for 30 minutes.
2. Let cool and transfer to an airtight container. Enjoy!
Notes:
Leftovers
Refrigerate in an airtight glass container for up to two weeks or freeze in an ice cube tray for up to two months.
Serving Size
Each serving is approximately two tablespoons.
More Flavor
Add chili powder and a pinch of ground mustard.
Do you want more recipes like this?
Get our 85 vegan recipes eBook. Use code VEGAN at checkout and get 10% OFF.